Where: Freddy's Bar & Backroom, 485 Dean St., Prospect Heights, Brooklyn
When: Tuesday, 21st April 2009, 8-10pm
FREE!
Hosted by The Mistress Astarte
A dancer, actor, and model, the Mistress Astarte is bold, sexy and the embodiment of glamour. She has performed and been a guest performer throughout New York and Florida with appearances at the Web, Suite, Detention at Stone Wall, Posh Bar, Club Metro in Florida, the World Famous Lips bar and Restaurant in Chelsea, and had a cameo appearance in the movie
A Four Letter Word
. She was also a dancer with the all male drag ballet company Les Ballet Trockadero de Monte Carlo under the alias Ephroysina Drononova. Recently she was photographed by photographer Fernando Espinosa for the Garbage of Eden Spring 2009 collection. She is happy to be joining the Mongrel Vaudeville Cast and looks forward to being your mistress for the evening!
and Featuring:
Dancing duo
Pussy Says What?
in "Tea for Two"
Kitty katz meet Lester Lanin meet Bob Fosse meet Vivian Leigh. Dare to be entertained!
Surreal Advice Column
by Inbred Hybrid Collective
Inbred Hybrid Collective was established in 2005. Our mandate is: to stimulate a consciousness of the external factors affecting our human existence. The type of interventions associated with Inbred Hybrid Collective, achieved as artistic concept, constitute a provocation for the public to reflect upon the influence that this immersion has had upon them.
Comedy by H. Alan Scott

The Chicago Tribune's Red Eye cited him as the "hot gay Mormon." Scott co-hosts SRSLY LOL at Metropolitan bar in Williamsburg, Brooklyn, NY with Bryan Wilson and Garry Hannon. Every other Tuesday at 9PM you can find him surrounded by attractive guys in tight jeans.
Magic by Steven Henriquez
From making a select card appear in his pocket, giving you the sensation of touching your body without laying a finger on you, or burning cards only for them to reappear in the book of matches used. Steven Henriquez will have your jaw dropping and mouth watering from beginning to end.
Contortion by Jared the Conjuror
Jared is an escape artist, sideshow performer and contortionist. With an arsenal of restraints, pointy things, and lollypops he will make you want to close your eyes, yet entice you to watch closer all at the same time!
Music by Jasper James

Jasper James is a post-punk, pop-diva; serving up crunchy bass lines, psychedelic synths, thumping beats, and powerfully impulsive vocals.







Cabaret by the Dynamic Maximum Ion



The Dynamic Maximum Ion channels thee most engaging of vaudevillians--the male impersonator. Ladies, gentlemen, trollops and ruffians alike will be charmed by this
dapper dandy.
Jonathan Bitchman
from Switch N' Play!
Jonathan Bitchman joined Switch N' Play, a Brooklyn-based drag
alliance, in 2009. Hailing from the wilds past Hellgate Canyon, over
the Crazy Woman Mountains, and the lulling whiskey stills of Butcher
Holler, it all started for Jonathan Bitchman back in 2004 in Missoula,
Montana, as co-founder of the state's first and still only drag king
troupe, Two Finger Productions. He has worked closely with the
Asheville, NC -based transgender activism and performance group
Tranzmission, as well as on the NYC burlesque circuit with World
Famous *BOB*. He likes elk and bison jerky, cold beer, and floatin'
down the river.
(photo by Syditious)
Paranormal Ventriloquist Chris Martin
Chris Martin is the author of American Music (Copper Canyon 2007) and The Small Dance, an echapbook put out online by Scantily Clad Press. He has been known to act as a rap medium for strange, often post-apocalyptic old men.
Colin Steele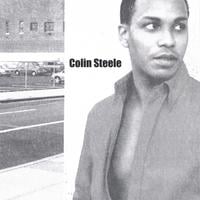 R & B singer Colin Steele has performed as Jermaine Jackson in the ABC miniseries The Jacksons and in the Off-Broadway smash hit musical Naked Boys Singing.
and more!
Next show, "Blue Moon in June," Thursday 25th June 2009.